Last night was my first Halloween being a momma AND a Realtor. It became VERY clear VERY quickly that trick or treating would never be the same for me.
I would NOT be able to focus on just the candy this year.
As the children rang the doorbell and told their jokes, I was consumed with all of the details of the home. After opening each door, I immediately noticed the finish of the door handles. Side note: I would be lying if I said I didn't look to see if the handles matched the rest of the hardware.
I made my way through the kids (sorry guys but I have business here too) to try to peek in the doorway and get a view of each house. I couldn't stop myself from looking at the cabinet size/color and thought would I "love it or list it" (pun intended). I stared at the windows, looking at the grid style and even found myself checking to see if the doors matched. I suddenly began mentally drafting up home descriptions for the MLS, as if I were actually listing the home tomorrow! At the same time, I was carefully choosing which features I would point out to a buyer.
Have I gone mad? No, but I have gone Realtor.
Not only has trick or treating changed since I became a Realtor, my daily routine also looks slightly different. My morning walks are never completed without listening to Real Estate podcasts (instead of watching Netflix.) My morning coffee is no longer spent watching the news, but instead it's served with MLS browsing.  Running errands with my daughter is now an excuse to drive completely out of the way to learn the different neighborhoods around the city.
I'll be honest with you guys, I L-O-V-E the Mom/Realtor Life!
It has been my pleasure to serve my clients these past 6 months and am looking so forward to serving many more!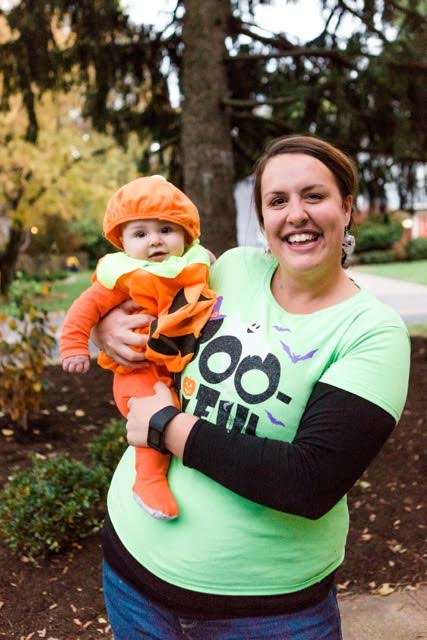 -Katie Campbell
One more picture because she's just so stinkin' cute…..