My details
Broker - Owner, REALTOR®
About Me
REALTOR® Magazine 30 Under 30 Class of 2017 WINNER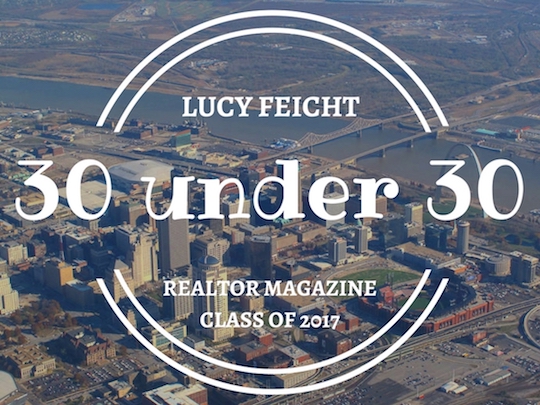 Lucy (Also goes by Lou) is Lou Realty Group's Real Estate Broker and Owner. She is made up of two important ingredients; Real Estate and St. Louis, which just happens to be her two passions. We don't know know if there's anyone that loves those two things more than her. Considering herself St. Louis's number one fan- she is a native to St Louis & you will quickly tell she is very proud of her city. Her passion for STL is what makes Lucy so excited to sell real estate- she lives, works and plays in the neighborhoods she sells. Recognized for her dedication and commitment, REALTOR® Magazine named Lucy one of its prestigious "30 Under 30" winners.
She is fully engaged and committed to educating each of her clients, ensuring they are fully prepared to make a sound financial decision. She has a personable approach to sales and is in her element going the extra mile to become a partnership with her clients & agents. Being a real estate investor herself, sellers benefit from her extensive analysis of the current market and buyers are confident in Lucy to take the lead. She handles each sale as if it was her own while carefully understanding her clients goals. Skillfully marketing each property, she has it down to a science- aligning with an inspiring team & offering superior resources- the real estate transaction transcribes into an exceptional experience, which can be difficult to find in today's industry.
If you ask her when did she know she wanted a career in real estate, She'll answer with- "I never knew I wasn't going to be in real estate- it was always my goal". She is an active member of local St Louis Association of Realtors and serves at the state level as a member of the Board of Directors for Missouri Association of Realtors.
There isn't anything Lucy likes more than, 'A good deal'. When she isn't buying & selling real estate, She is typically headed to the Lake of the O'zarks with her sweet husband Billy and their 100lb Rottweiler Hank. She is in her happy place when sharing a good laugh with friends & family while trying out a new local restaurant. You will always find her dressed head to toe (literally) in Lou Realty gear. She even has shoes that brand LRG! (…thanks to her sister!)